pants: Ross, tee: Juicy Couture, shoes: Marshall's
LOOK LOOK! I'M A FLAMINGO!
and also i have new hair. i was getting a little bored with the blonde blonde blonde. so she dyed the underneath dark brown and put some brown lowlights throughout. i like it. i feel cool. ALSO, WHILE I WAS GETTING MY HAIR DONE, i had a GLASS OF WINE and my hairdresser and i shared a pizza! how's that for service?! srsly. she took out my feathers. but i'm going back in to get them back soon.
obsessed with these new shoes i got yesterday at Marshall's. i found the best hidden gem of a Marshall's ever in life. and i'm SO THRILLED. and i'm not telling anyone about it. because then they will steal all the good things that could potentially be mine. selfish? i call it smart shopping.
i also got Cleo a new toy. it's a fluffy pink dog. and it has the longest skinniest legs imaginable. it's hilarious. Cleo likes to suck on the legs like a little weirdo.
also, would you like to know a story of my poor luck??
i ordered Rah a personalized custom birthday gift. on st. patrick's day. and it still isn't here. so i contacted the company and asked why i hadn't received it. they said it was delivered. and they attached the tracking number for USPS. so i clicked. WELL MY FUDGING PACKAGE CONTAINING RAH'S BIRTHDAY GIFT WAS SENT TO THE M.H. IN SPOKANE. just please. so i called my old landlord. and i said, "could i please have the number for the people that currently live in our old place?" NO. NO I CAN'T. WANT TO KNOW WHY? BECAUSE THE CURRENT TENANT IS IN THE NAVY AND IS IN IRAQ. IRAQ. for months. and so Rah's bday gift will sit for months. inside this man's mailbox. the landlord said, "well, i can try to contact him over there..." LIKE NO, I DON'T WANT YOU TO CONTACT HIM. HE NEEDN'T BE BOTHERED WITH A FRIVOLOUS GIRL'S FRIEND'S BIRTHDAY PACKAGE!! HE HAS MORE IMPORTANT THINGS TO WORRY ABOUT OMG.
so there my birthday package for Rah sits. inside this man's mailbox. who is in Iraq. and Rah is just down the road. within a mile of her birthday present--all locked away for months inside of a mailbox that isn't accessible. just please. i permanently lose. LOSE.
I'm almost finished with my marshmallow chick tutorial! FINALLY. This one really kicked my butt... I am still a novice sewer, after all. Anyway, I hope to have the pattern up by Friday or Saturday... I was supposed to have a lot of time to work on it tonight, but that plan was foiled. So check back soon for another dose of cuteness!
In the meantime, please take my marshmallow peep survey in the right hand column. ->
Thank you again for all the enthusiam about my marshmallow bunny tutorial. It's been so much fun and I'm still looking forward to seeing more of the bunnies that you guys have made (add them to the Dandelions & Lace Flickr Group). I have to brag a little... Kristi Yamaguchi tweeted about my peeps yesterday. Kristi Yamaguchi!!! She was one of my idols as a little girl... the best part of the Olympics. Wow, still in shock... good shock. :)
P.S. I met Yo-Yo Ma tonight (not peep-related, but still cool!)... actually shook his hand. I'm starstruck.
My memory fails me, about why I don't like making bed covers...
So I started again and found out it's not so bad after all, I just need to give myself more time to make them.
Sometimes getting older is a blessing...
Today I finished the two pillows and the bed cover is half done, I just needed a certain size lace so I went to my lace shop and there the problem starts...
I can never leave the shop without two bags full of ooohs! and ahhhhs!
and I made an appointment to go and see 'the new shop' sigh!
I will take my camera so you can see for yourself and tell me if I need help or would you do the same.
Flowers are from Sia and were 30% off.
Here is some green lace, I like to cut out the leaves and use them beside flowers.
This is just yummy, the colour is amazing! and 12 cm long.
This is about 3 cm. wide and I think nice to use with lavender because it has a little window.
And you never guess what is so special about this lace....
Well... it glow's in the dark???
I tried it and it really does!
Now I have to think what to use it on, maybe on a pillow for the bed, so when you close the light you will know where your target is.
Thank you so much for now I have 103 followers and so many sweet ladies who encourage me with kind words.
JP and I took a quick trip to San Francisco from last Wednesday until Sunday. It was our second time visiting. The first time we rented a car and drove around a lot. We stayed in San Francisco the first couple of days, then headed to Santa Cruz, then to Fresno, then San Jose, and back again to San Francisco.
This time we got a hotel at Fisherman's Wharf and pretty much hung around anywhere that was walking distance for us. We had a great time wandering around the city, but by the end we were both having trouble standing up. So much walking!
Después de los nervios, el estrés, la agitación, correr por la oficina para acabar de imprimir el trabajo... la EDITORIAL (y esto va para mi Fashion colleague ;) ) "ha sido entregada a tiempo" y con un resultado positivo! (al menos para mi jejeje).
Qué tensión, qué todoooooo!! pensaba que no llegaría a tiempo! y como podéis percibir ciertamente ahora estoy super ACELERADAAAAAA JAJAJAJAJ! Después del momento nervios, estoy que doy saltos de alegría de haberla acabado!!
Aquí os dejo "un poquito" de ese duro trabajo.. de la búsqueda de los mejores looks, los más adecuados... el resto, habrá que verlo en vivo! Próximamente... las fotos del look con modelo, maquillaje y ESTILISMO COMPLETO!!!
© Miss Lou and http://demodayaloloco.blogspot.com/, 2011. Unauthorized use and/or duplication of this material without express and written permission from this blog's author and/or owner is strictly prohibited. Excerpts and links may be used, provided that full and clear credit is given to Miss Lou and http://demodayaloloco.blogspot.com/ with appropriate and specific direction to the original content.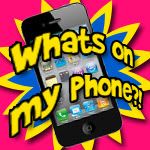 WHAT'S ON L'S PHONE?!
i realized i was breaking Lent after i had eaten that much. I HAD TO FINISH THE LAST BITE! so sorry, God. please forgive me.
finally got banana grams! and played with JJ last night. he hated it. OF COURSE. now i have no one to play with :(
Cleo hanging out in her own bed for once.
Cleo's new raincoat LOL. she wouldn't face me when she had it on.
my party poodle shirt. it reminds me of Rah's dogs. they are both poodle mixes. so she calls them her "party poodles." now i have a party poodle of my own.
my sister MM sent me this pic of Chanel OUT COLD in the car.
MY FAVIES! i made my way through the better part of this bag last night. why are reeses eggs SO MUCH BETTER than regular old reeses cups?? no one knows.
me and Juelz Santana on tower of terror. we are right there in the front. i'm squeezing her arm. NO MATTER HOW MANY TIMES I GO ON THAT RIDE, I WILL ALWAYS BE SCARED.
new nail trend. pick two polishes from the same color family (one dark, one light) and paint the ring finger of each hand the darker color. paint the rest the lighter color. love it!
Cleo actually wearing her raincoat in the rain. she wouldn't actually walk while she was wearing it. so i had to pick her up. what a snob.
my new fishy magnets at work :)